What to Expect During a
Hot Air Balloon Ride
Weather permitting, flights are available seven days a week from May 1 to September 30. Sunrise flights average 60 to 70 minutes aloft, meeting half an hour after sunrise. Sunset flights average 45 to 60 minutes aloft and meet two and a half hours prior to sunset. Sunrise and evening meeting times are seasonal.
We at Snohomish Balloon Ride like flying in Snohomish best of all. The Northwest is a beautiful place for hot air ballooning, and seeing it as you soar above everything aboard a hot air balloon is an experience like no other. Floating just above the river and the trees high enough to see Seattle and Vancouver creates an unforgettable balloon ride experience.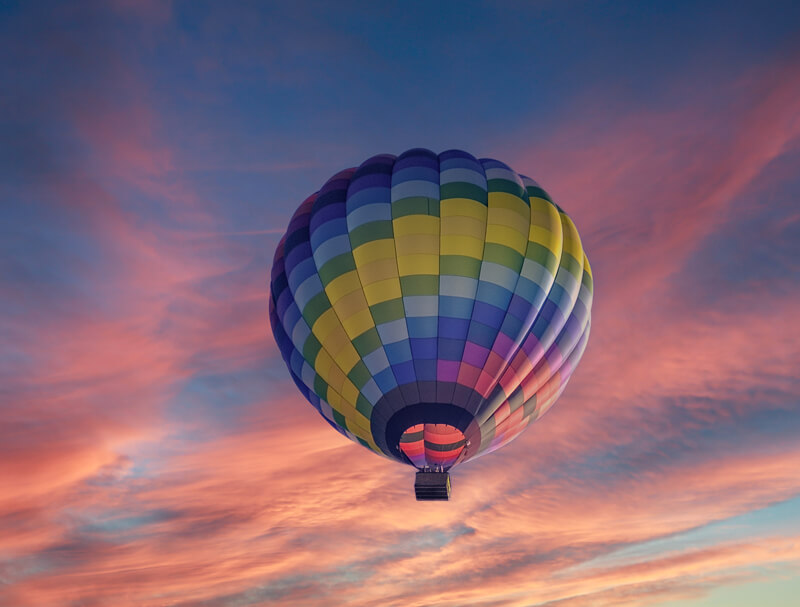 Your balloon ride adventure begins when you check in at our location at the Harvey Airfield. Morning flights meet approximately at sunrise, and evening flights meet approximately two and a half hours before sunset. Seasonal times apply.
Once checked in, you board our vans and are taken to the launch site. The crew quickly unloads the balloon and assembles it for inflation.
Inflation of the balloon is accomplished by motorized fans. Once the envelope is filled with air, the pilot carefully directs propane burners to heat the air inside the balloon envelope. After just a few minutes, the balloon is standing upright and ready for you to board.
Once on board, your pilot introduces you to the flight with a passenger briefing filled with information to help you enjoy the flight and prepare for the landing.
Everyone gets a window seat. Balloon rides have been called "a nature walk in the sky."
Now you're ready to experience the magic of ballooning.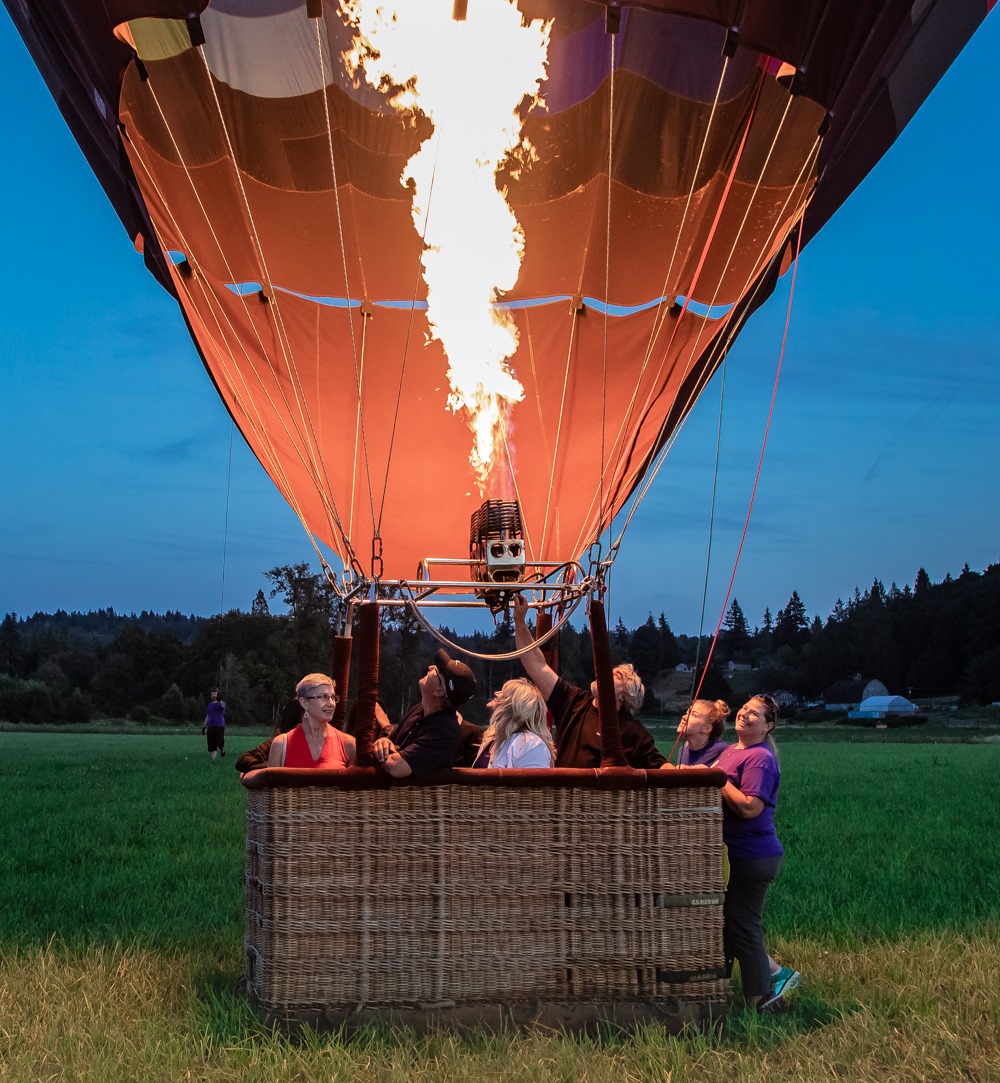 If you're a first time flyer, you may be wondering what to expect during a hot air balloon ride. Well, it's sensational.
As you gently leave the ground, you're amazed at how light the balloon feels. During the flight, you have unobstructed 360-degree views, allowing for breathtaking photographs.
To steer the balloon, your pilot explores a variety of altitudes, from just above the treetops up to perhaps as high as 3,000 feet. By changing altitude, your pilot is also able to change direction by finding shifts in wind currents.
On our flights, we commonly see the Cascade Mountains, Snohomish River, the high rise buildings of downtown Seattle, and breathtaking views of Mount Rainier.
Your pilot points out the occasional eagle's nest as well as salmon and beavers swimming up the river. He might descend within inches of the river, much to everyone's delight, for the best viewing opportunity.
A Personalized Experience
A personalized balloon tour with us is the best way to enjoy your first ballooning experience.
Our smaller balloons carry 2 to 4 people while the bigger balloon carries 5 to 8 people. Passenger loads dictate which balloon we fly.
We also take special flight paths to give you an up-close-and-personal encounter with the flora and fauna. We know you might take just one hot air balloon ride in your life, so we try to make it magical.
Join us and check this adventure off of your bucket list!
How We Are Handling Covid-19
Pre-screening: Please self-screen for signs or symptoms of COVID-19 prior to arriving. If you have any COVID-19 symptoms or have been exposed to someone with COVID-19, please call to reschedule your Balloon flight for another day. Your deposit will remain on your account.
Face Covering or Mask: County and state requirements for mask wearing were lifted as of March 12, 2022. We do not currently require passengers to wear face covering or masks.
Limited Area Access and Spectators: Only passengers will be allowed in the check-in and greeting area. Spectators are welcomed but we ask that they remain clear of other passengers and to continue to practice Social Distancing.
For additional details, please read our current Covid statement dated January 2023.
Take a Hot Air Balloon Ride - Snohomish Style