Have You Ever Flown in a Hot Air Balloon at Sunrise
Have you ever flown in a hot air balloon at sunrise? Riding in a hot air balloon might be on the top of your bucket list. If it is, this article is for you!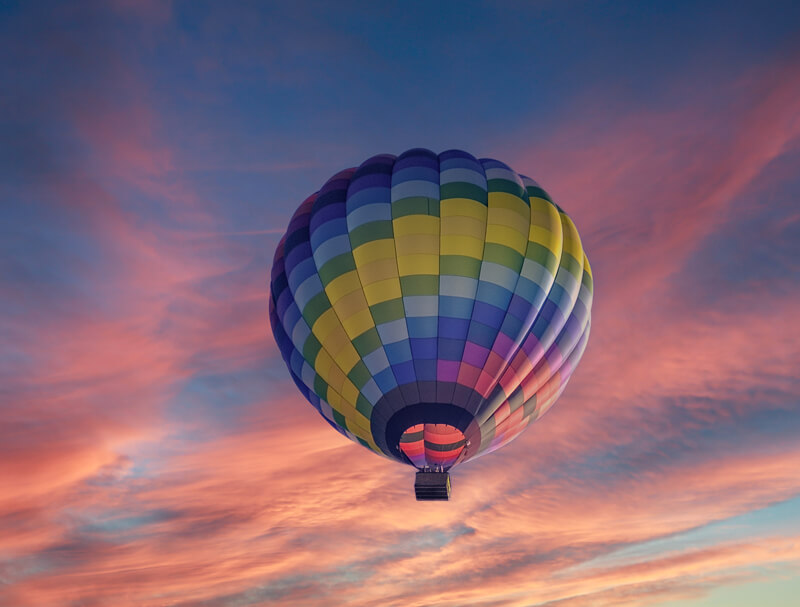 There are a Few Unexpected Surprises During Your First Hot Air Balloon Ride
Surprise #1 You might need to get up early.
One of the best times to fly in a Hot Air Balloon is early morning just after Sunrise. Why? That is when the air currents are at the most predictable levels, both for wind speed and direction. The air cools all night and stabilizes, allowing Balloon Pilots to navigate the subtleties of the wind at different altitudes and steer the balloon over hills, fields and streams and eventually to a good landing spot.
Morning flights meet close to Sunrise with expected launch and flight in the first hour or so of Daylight.
Surprise #2 It Might be Cold in the Morning
It might be cold in the morning, so dress casual, comfortable and most importantly dress in layers. It wont get any colder aloft and you can always unzip your jacket or hoodie if you get too warm. A few tips:
Wear a hat or beanie & bring gloves, especially if you're flying in late Spring or early Fall
Wear comfortable closed toe shoes like tennis shoes or boots. Sandals are not recommended
Dress in layers such as sweaters, hoodies or jackets.
Surprise #3 You Won't see a Balloon Standing There Waiting for You to Get Into It
Prior to meeting time, Balloon Pilots get up to the minute weather reports for the flying area to make a Go – No – Go decision. Yes you heard that right! There is a chance the day you choose might not be a good day to fly. Well trained Pilots don't want to fly just to fly. They want to give you a safe and enjoyable experience. After All that is what you have been waiting for. Once the Pilot has determined its a great day to fly, the Balloon Crew assembles the balloon for inflation. It's fun to help so ask what you can do to be part of the team. Don't worry, it takes about 20 minutes to get the balloon ready for lift off so you'll have many opportunities for selfies, group photos and pictures of the process. .
But Hot Air Balloons do inflate quickly so be ready to go!
Surprise #4 Once it's Standing Up, the Call Goes Out by the Pilot "All Aboard", and moments later you will be in the air
The Balloon rises so smooth you might not even know you left the ground. Be ready though, it might be loud. The Pilot burns propane through a highly efficient Burner and its loud. To heat the balloon to lift off the Pilot must burn a lot so you might want to wait for a few minutes to talk to each other. Don't try and yell over the sound, it won't do any good.
You Get To Fly In The Air For Up To an Hour!
Surprise #5 A Big Consideration of What Will Be a Great Day to Fly is the Wind Speed and Direction
You don't want it to be too fast, it will end too soon. If it's too slow, then you don't go far. When it's just right, plan to spend about an hour aloft. The Pacific Northwest has the most beautiful clear skies so you get views of the gorgeous peaks of the Cascade Mountains, the Puget Sound area, and more.
Surprise #6 The Hot Air Balloon and Basket May Bounce Just a Little When Landing
Why might you bounce a few times before settling onto the field of grass? Since the balloon moves with the wind, the Pilot can't stop the balloon until it makes contact with the ground. In some circumstances, you may experience a high wind landing. The hot air balloon Pilot will brief you on landing procedures before takeoff and remind you just prior to land to get into the right position to land. Because of this possibility and high wind lands pregnant women are not advised to ride a hot air balloon. Passengers are asked ahead of time if they have any reasons why a bouncy landing could be difficult for them. Be sure to talk to your reservationist, crew and most importantly your Pilot about any conditions you might have so they can adequately brief you on what you might expect on landing.
Once on the Ground You will Be Amazed By The Experience You Just Encountered But It's Not Over Yet
Surprise #7 How Does That Big Balloon Get Back Into The Bag?
Over the years we have found that Passengers love to be involved in the process. It's not required but it is fun. Helping to put away the hot air balloon is a little work. Who would believe you can get it all back into that bag. How much does the balloon weigh? Most Ride Balloons weigh over 500 lbs just in nylon Fabric. The basket can weigh over 900 lbs. It's a team effort to roll up the massive hot air balloon and load it back onto the trailer!
Surprise #8 There is a Treat Waiting for you When We Land
At the end of the ride, you get to celebrate a 200 year old tradition. The post flight celebration started with the first Hot Air Balloons back in 1780's. Your Pilot and Crew will celebrate your flight with a History lesson (with a test after so pay attention) and a glass of Champagne. You will be toasted with the Balloonist blessing and awarded your Medal of Valor to wear and remember your flight by. Wear it wherever you go because you are sure to tell the story of your flight for years to come.
Have You Ever Flown in a Hot Air Balloon?
Have you ever flown in a hot air balloon at sunrise before? If not, come check it off your bucket list. Enjoy your flight!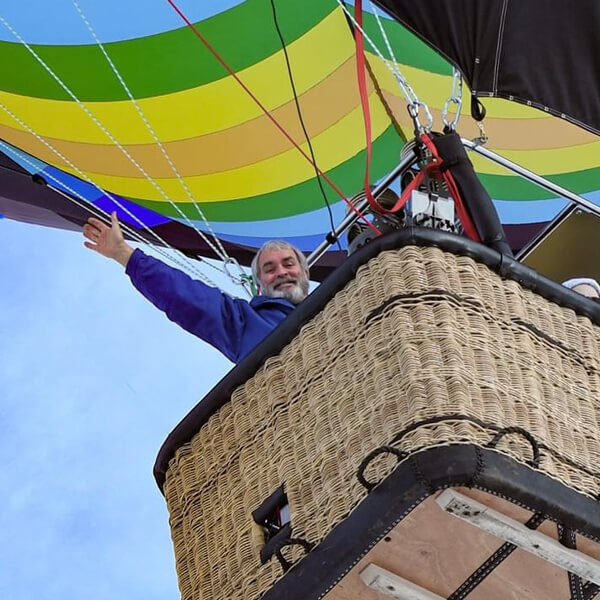 I'll be your pilot during your hot air balloon ride flight.  I'm here to make your experience a memorable one.
Take a Hot Air Balloon Ride - Snohomish Style