Covid 19 Update To Our Passengers – 2021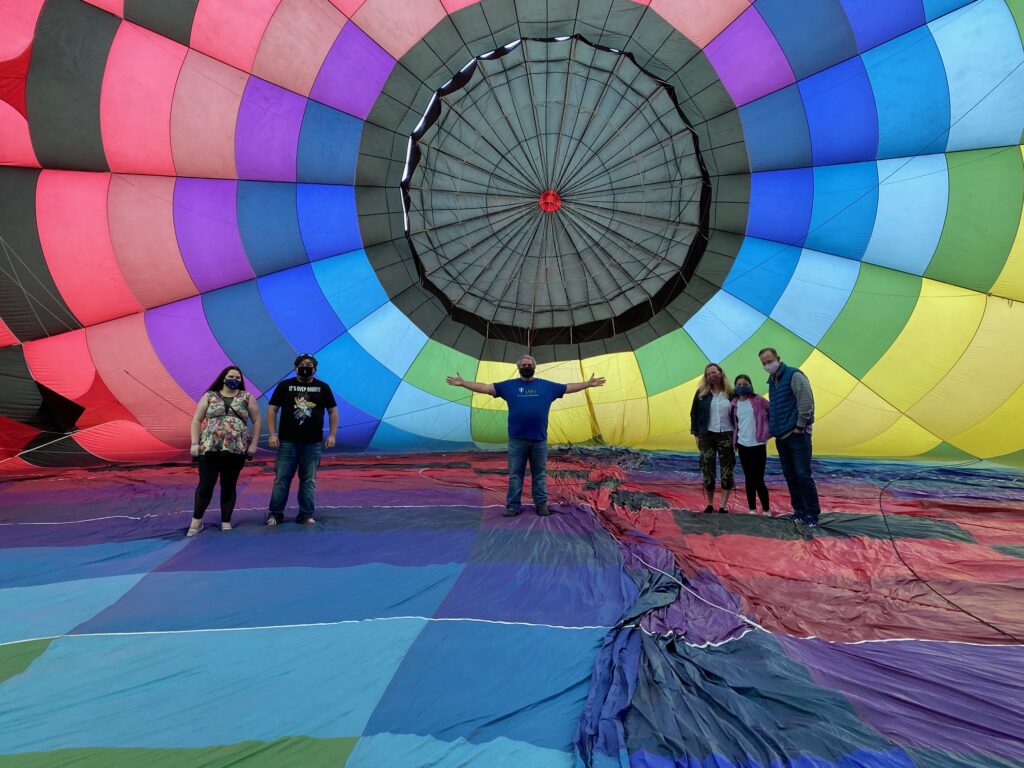 A COVID-19 Update
Our 2021 flying season is opening soon. There are so many positive things going on right now with the COVID cases declining and vaccination numbers going up that we are seeing an increase in pre-bookings for our flying season. Guidelines are starting to loosen and that gives people a sense of confidence about doing more as a group and being outdoors in general. Hot Air Ballooning is done totally outdoors in a fresh open air environment.  
We Continue to Use the Safety Protocols Initially Adapted in Response to COVID
Last season taught us a lot. We opened late because we were unsure how balloon rides fit into Snohomish County and Governor Inslee's Safe Start Plan. As of late June 2020, Phase 3 has not been accomplished and we had already delayed our start by 60 days. While some people postponed their plans to fly until this season, our 2020 COVID Safety Plan, which was adapted from Phase 2 Outdoor Recreation and Personal Services guidelines and FAA/DOT guidelines for air travel, was well received and appreciated by our guests.
We Know More This Year
We know a lot more this year than we did a year ago but we are still operating with Covid guidelines and procedures!
We initially limited the baskets loads but found most people felt very comfortable in the small groups. Its hard to social distance in Balloon Baskets. We added a Private flight that accommodated small passenger groups. This exclusive flight, intended for household and families became popular among the displaced need for wedding proposals. It was awesome. We had almost 20 wedding proposals and on every occasion, she said Yes.
While balloon flights do take place with plentiful open, fresh air, there were multiple changes made to our operations last year, many that have now become standard procedure for our everyday lives. Each was designed to keep our passengers, our friends, our staff, and our families safe and comfortable.
We still have our traditional post flight "Balloonist Celebration" but have not yet re-added the post flight food assortments. We are looking for a way to re-incorporate that and hope to soon.
Changes to Be Aware Of
In the interest of safety, adventure, and setting the standard of expectations, we have continued to use the safety protocols adopted in 2020 but have updated them. They are as follows:
First and foremost, if you do not feel well, or know you have been near someone who has been exposed, please stay home. We will re-book you and anyone attending with you for a later date.

Reservations made through our online portal do require full payment in advance however our cancellation policy remains flexible to allow for last-minute changes in your schedule or ability without penalty to you. Reservations made over the phone will only require a $50 / person deposit.
We are all still wearing masks these days.You can expect all interactions with our staff will be with proper personal safety precautions, despite vaccinations.
We will help Reduce transmission and follow the Governor's and CDC recommendations of having everyone wear a face mask regardless of vaccinations. Masks are not required but we do recommend everyone continue to wear a mask during all occasions when others are present so yes that means aboard the balloon. We realize this is not how you want your photos taken so removing them for a moment or 2 is understandable.
We do not require vaccinations.
During the check-in process on the day of your flight you will be asked if you have any symptoms or have been exposed.
To keep our Check-in process touchless, we use electronic waivers that everyone must complete prior to flight. This can be done using your smart device or personal computer prior to flight. We use contact free payment opportunities as well.
We do have face masks that will be complimentary (not to be used or intended as replacement for PPE)  to every balloon passenger should you not have one of your own.
Hand sanitizer and wipes are available for your use at various locations and transport vans.
Social distancing will continue, and we will encourage passengers to remain socially distanced as much as is possible throughout the experience.
All equipment (balloons and vehicles), as well as our passenger reception areas, are fully sanitized regularly.
As much as possible we plan to continue to limit the quantity of our *Shared balloon rides (passenger weights, group sizes and ages play a role in the per flight qty determination).
* If you do book a shared basket, we have taken steps to ensure your safety. However, please be advised that you will still be traveling in a van to and from the launch/landing site with as many as 8 other people including Pilot and Crew (depending on the number in your party).
Our Goal
Our goal is to be able to bring passengers an adventure worthy of great memories.
We've done the planning and preparation because we've all had our fair share of worries; it's time for some fun and adventure.
Please check out our website regularly for updates or to book online. If you have any questions, feel free to call us for more information. We look forward to flying you!
I'll be your pilot during your hot air balloon ride flight.  I'm here to make your experience a memorable one.
Take a Hot Air Balloon Ride - Snohomish Style